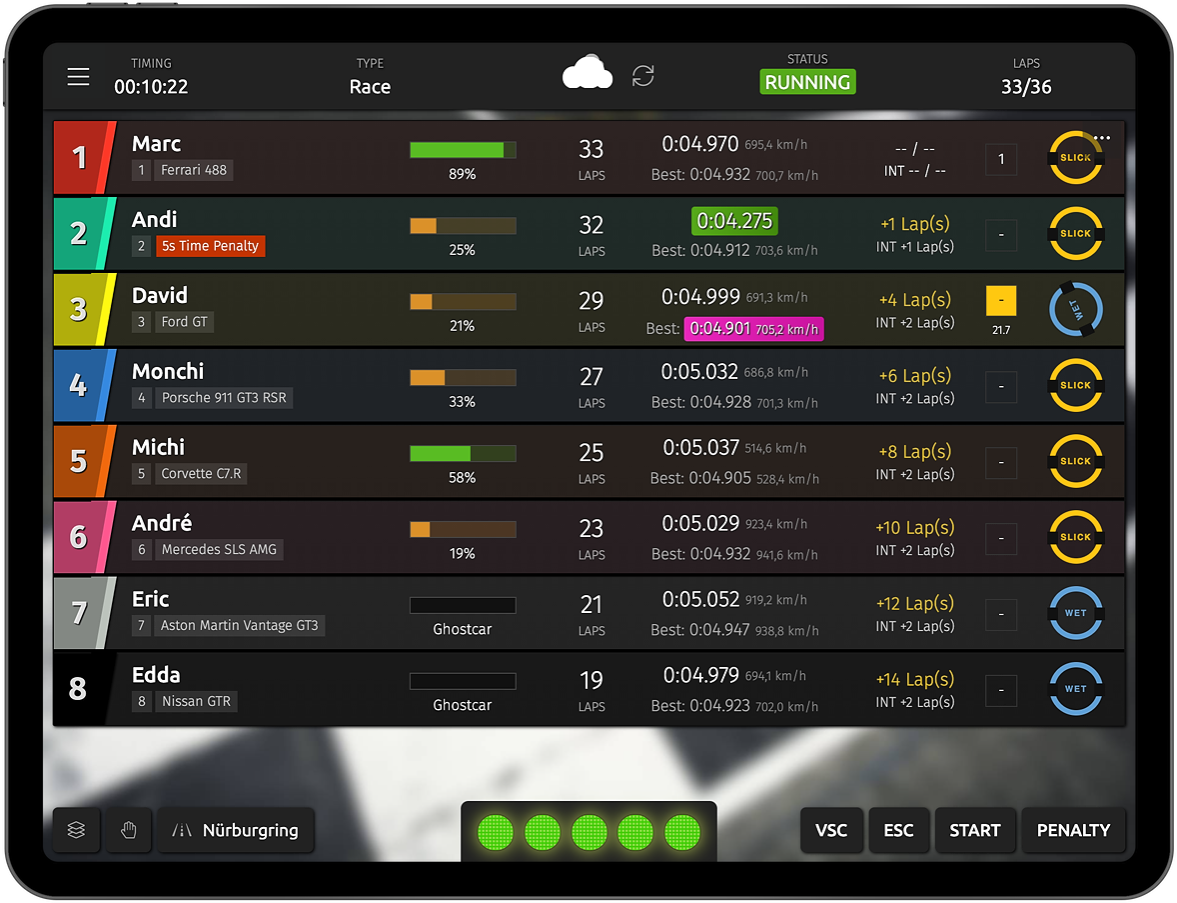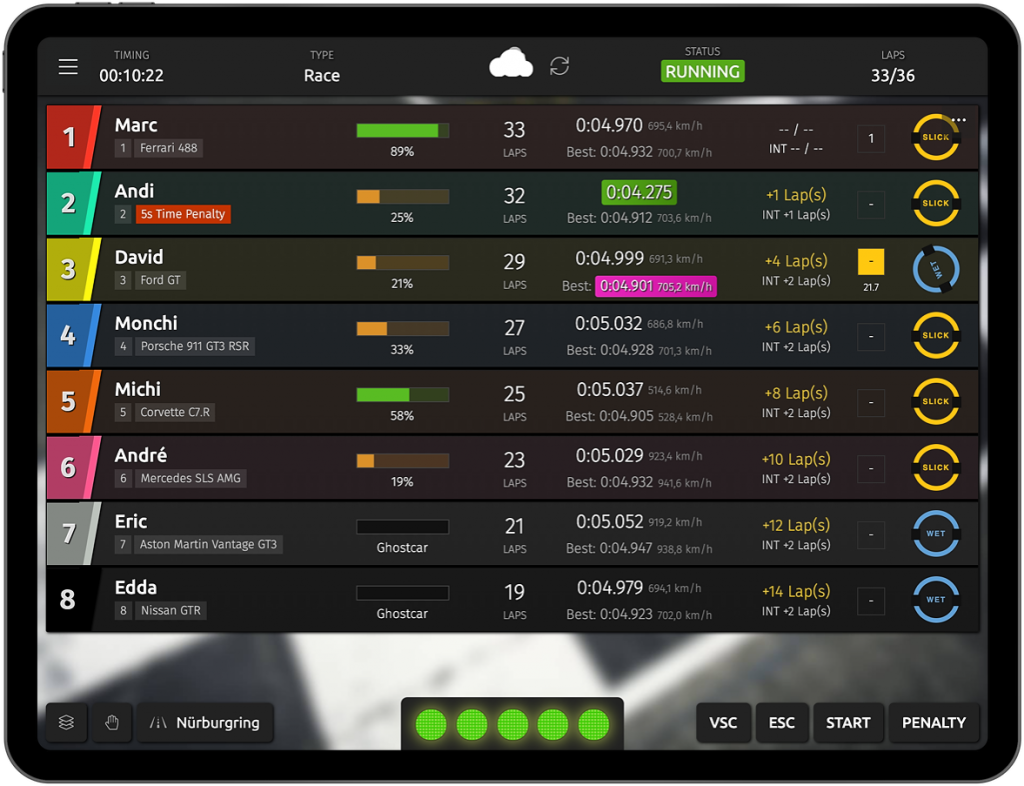 Free practice sessions, qualifications and races
Drive, drive, drive.
SmartRace offers you three different driving modes. Just like in real motorsport, you drive free practice sessions, qualifications or races. You decide whether the race should run for a certain number of laps or for a maximum duration.
Clear race screen with all information
Free practice, qualifying and racing
Adjustable number of target laps or maximum time
Did you know? You can customise the racing screen with different widgets to make it look the way you want.
Car tuning directly via the app
Tuning made easy
With the built-in tuning section, speed, brake force and tank size can be precisely adjusted. SmartRace even offers more levels than the Control Unit and stores the values in the vehicle database, where they can be viewed at any time.
Adjusting speed, brake force and tank size
More precise setting possible than via the control unit
Values are stored in the vehicle database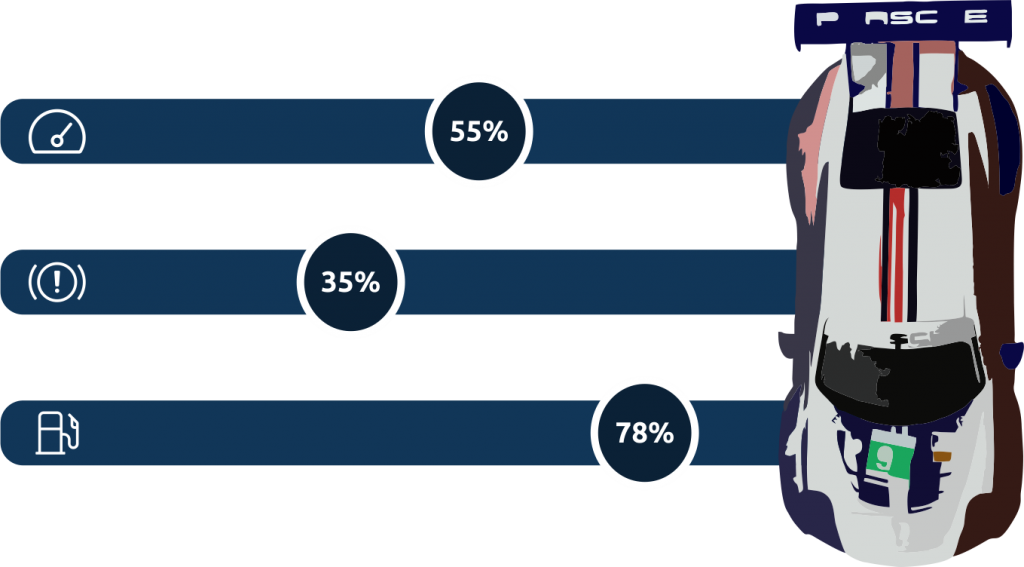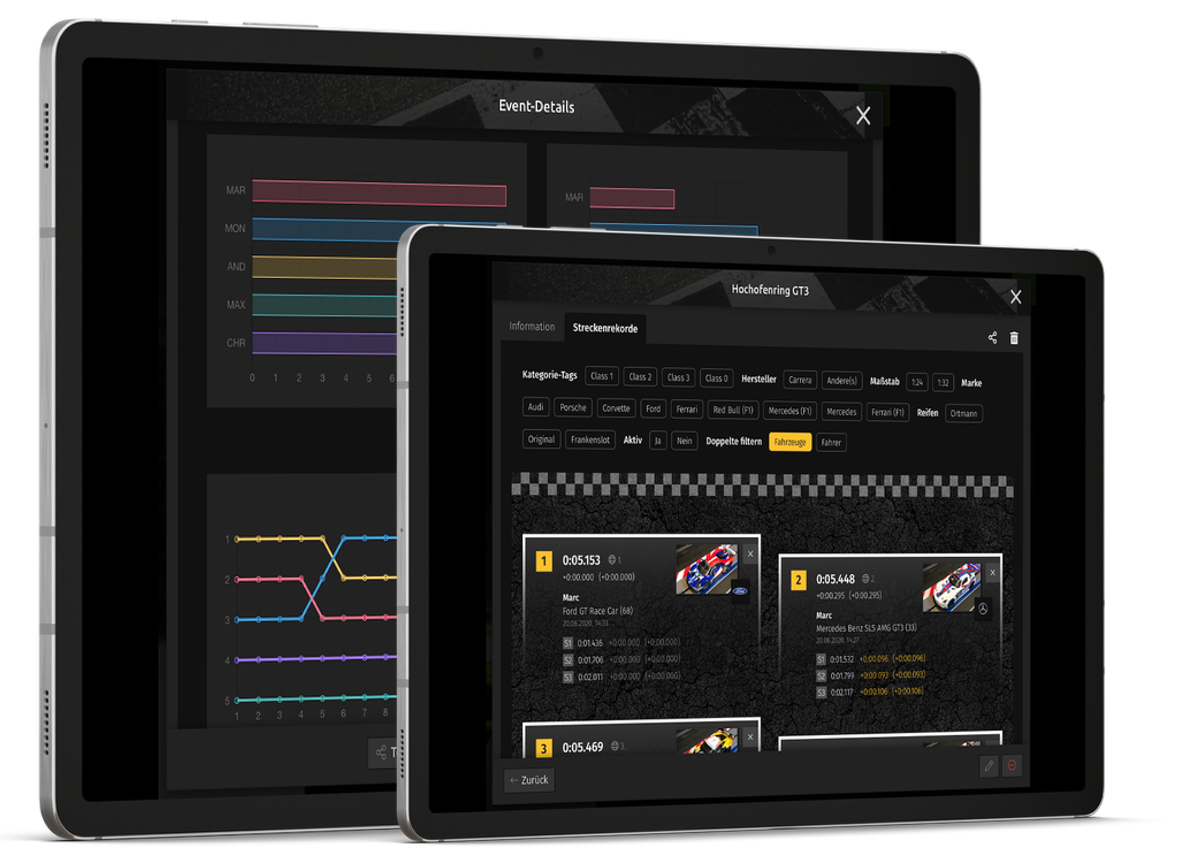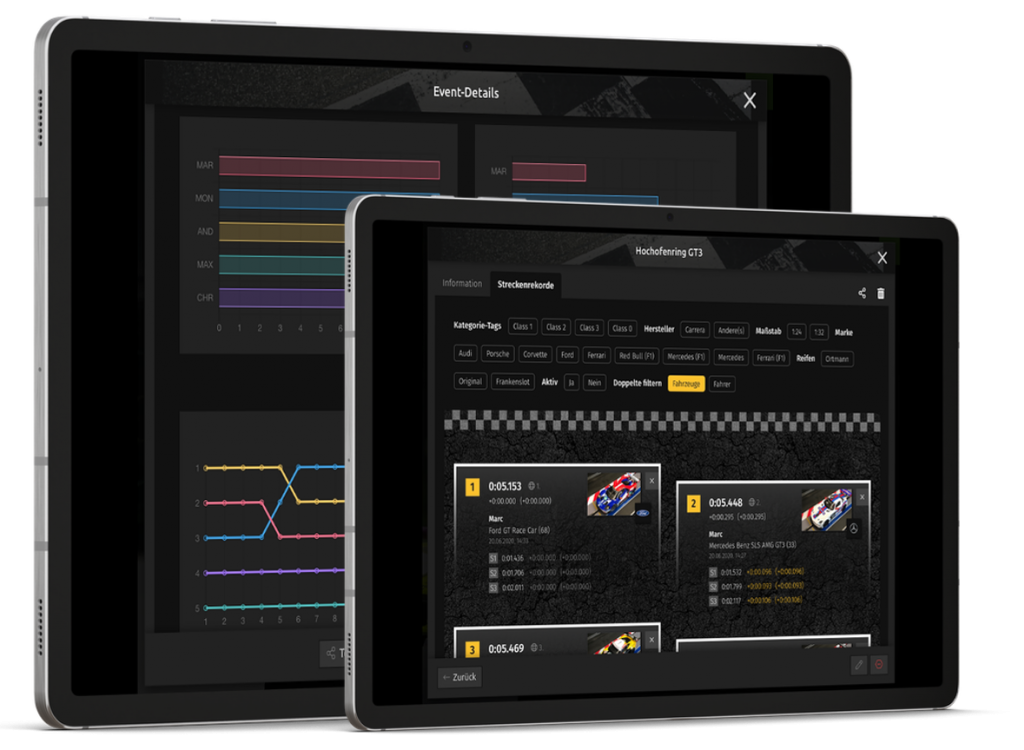 For statistics fans
Detailed data collection and statistics
SmartRace saves track records and displays them in a filterable overview. You can also analyse qualifying and race results in detail, including all laps driven, pit stop times and graphical evaluations of lap times and lead changes.
Filterable track record view
Detailed statistics on qualifications and races
Export results as CSV and import e.g. into Excel
Get even more out of it with the
SmartRace Champions Club
The SmartRace Champions Club is a big package with cool add-ons that you can easily add in the form of a monthly or annual subscription in the app and of course cancel at any time.
Weather simulation. Simulated rain starts. Change tyres quickly!
SmartRace Connect. An additional driver display on your mobile phone.
Penalty system. Hand out time and lap penalties in races.
Fuel simulation. Consumption based on adjustable lap times.
Championships & Teams. Race a whole season and earn points!
Virtual safety car. Crash? Simply activate the VSC.
Simulation of damage. Quickly to the pit to repair!
More will follow. SmartRace is constantly being further developed.
Voice output and sounds
Real racing atmosphere with sounds & voice output
You won't miss a thing with the built-in voice output. The adjustable voice informs you about all important events in the race. To create a real racing atmosphere, SmartRace comes with background sounds from racing (Le Mans, F1, VLN, Nascar, etc.).
Voice output with mention of the driver's name
High-quality background sounds for a great racing atmosphere
Additional sounds, e.g. original pit horn from the Nürburgring
Manage your data. Enter your vehicles, drivers and tracks in SmartRace and store pictures and information about them.
Your settings. Set SmartRace with many different options exactly the way you want it.
Share with friends. Share race results and other info with your friends and fellow riders directly from SmartRace.
Customise the race screen. Place widgets with additional information on the race screen according to your preferences.
Broadcast to big screens. Easily mirror SmartRace to TVs, monitors or projectors using AirPlay or ChromeCast.
Make History. Save all your races and qualifications in the history to view them again later.