SmartRace does not run on Windows PCs or laptops, but the app can still be used on notebooks or desktop PCs. There are two ways to do this.
Possibility 1: Use on macOS devices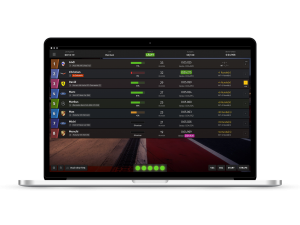 Since SmartRace also runs natively on macOS, you can use the app on the following Apple devices without any problems:
Macbook
Macbook Air
Macbook Pro
Mac Mini
iMac
iMac Pro
Mac Pro
The prerequisite is that your macOS device is running at least macOS 10.10 (Yosemite) and the device has Bluetooth 4.0 (or newer). Best of all, if you already own SmartRace for iOS, you can download the macOS version for free.
Possibility 2: Use on Chromebooks
Chromebooks are inexpensive notebooks from various manufacturers that run Google's ChromeOS operating system. Since this is an Android derivative, SmartRace also runs on these devices. You can get the app there (as you are used to from other Android devices) via the Google Play Store, which is usually pre-installed. If you already own SmartRace for Android, you can download the app on your Chromebook for free.
A recommendation for a tested Chromebook is the Lenovo Chromebook S345-14AST.