Backup and Restore
To back up your SmartRace data and settings, you can use the "Backup" feature from the main menu in SmartRace. A backup will contain the following data: cars, drivers, tracks, teams, championships, history entries and all settings. Images will also be included. To create a new backup, open the according dialog from the entry "Backup" on the SmartRace main menu and click the green button "create new backup". After the backup has been created, it will be added to the list of available backups on the dialog. From this list, existing backups can be exported (e.g. to Dropbox, Google Drive, iCloud or for sending them via email).
Important: depending on the number of images included in a backup, the file size of the backup can be huge. Therefore it is recommended to export the backups to either an external service like dropbox, or to the device (outside of SmartRace) and delete the backup from SmartRace afterwards.
Backups are platform-independent, which means that backups which have been created on Android can be used with iOS and vice versa. Restoring backups works differently on the platforms, though, and the process will be explained in the following.
Important: make sure SmartRace is already opened on your device before you try to restore a backup.
Restoring a backup on iOS
On iOS, the exported .srbk file might be opened directly from the file explorer app. From this app, use the "share" button on the top and select SmartRace from the available apps which will open the backup in SmartRace.
Restoring a backup on Android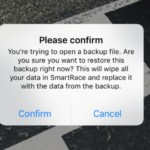 On Android, the file might be opened directly aswell, only that it must reside on the devices storage (SD card or internal memory), which means that it cannot be opened directly from Dropbox (or Google Drive or others), but must be exported first from those apps to the devices storage. The file might then be opened from the devices file explorer. If that doesn't work ("you don't have any app to open this file type" or similar), please rename the file and add .txt to the end. Now it should work.